Justin and I escaped to paradise for 7 nights and 8 days to be exact.
The island of Kauai.
It was wonderful. Quiet. No stress. No worries. No work and all play. And believe me, since we didn't have our kids, we played hard. :) My parents have a timeshare there so we stayed with my family. We had a great time being together but also made a great trip out of it as a couple. Thanks so much to all our family & friends who watched our littles while we played in paradise!
I took over 700 pictures so I'm going to have to break up our trip into a few posts. I just have to say traveling with just myself and my husband was sheer bliss. When you are only packing for 2 people you can really travel light! It was nice to be able to watch a movie or flip through a magazine and truly not be interupted. Dont get me wrong, I love my children SO much, but this was a greatly needed break! (Justin & I hadn't been on our own for nearly 3 years! Trust me, it was time!)
The minute we got our rental car and started driving around the island, I HAD to bust out the camera for some scenic shots! These are all on the fly (literally out the car window) so they might not be the best but it's all so gorgeous I couldn't help myself!
The ocean water is so BLUE! Love it!
I love the palm trees in Hawaii. They are humungous!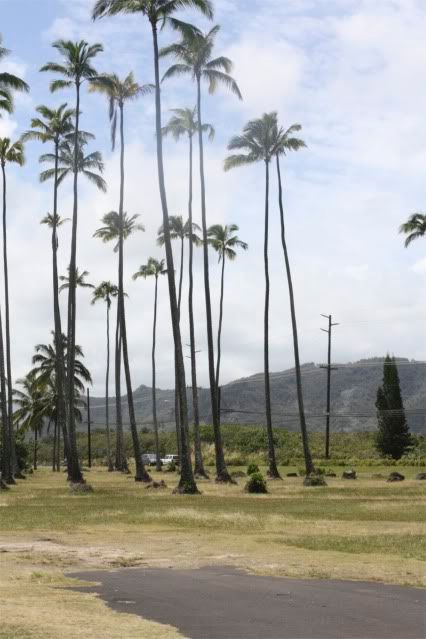 More palm trees blowing in the wind!
This was our view outside our timeshare.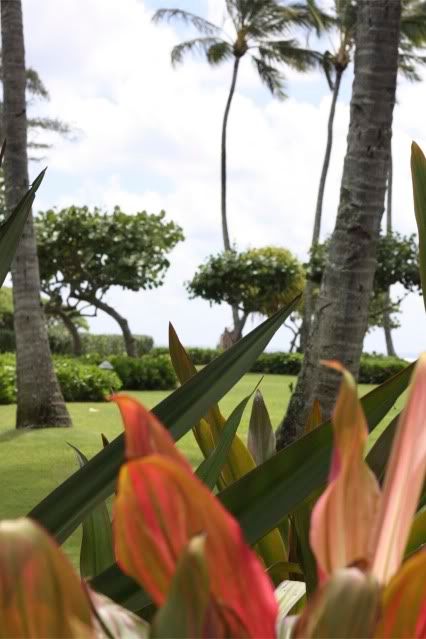 And in Kauai, there are roosters and chickens running wild everywhere. Everytime we went anywhere, we were greeted by tons of them. This one kept walking up to me as if he wanted me to take his picture, or maybe he thought I wanted to give him food. Sorry dude.
Our first night together as a family we went to a fabulous restuarant called Kintaro. They cook everything right there in front of you. I have to say, this was the BEST steak I have ever tasted in all my 31 years. (This pic was wth my camera phone so not the best quality but wanted to remember the place nonetheless!)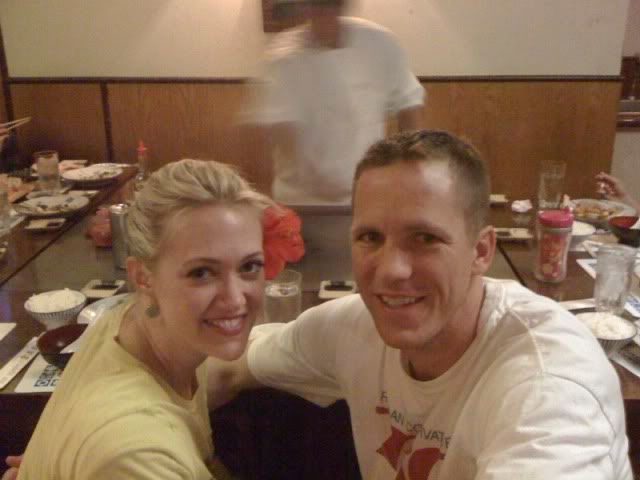 The next day was Sunday so we all went to church then afterwards went sight-seeing. Our first stop was Waimea canyon. This is a stop overlooking the canyon. I love being with my siblings. I'm the oldest of 5 kids (we missed you Kelli!) so it's fun to act like goofy with them. It makes me feel young again. (Not that I'm old, which I'm not, maybe it's just being the "oldest" that makes me say that!) L-R: me, Kristin, Kenna & Matthew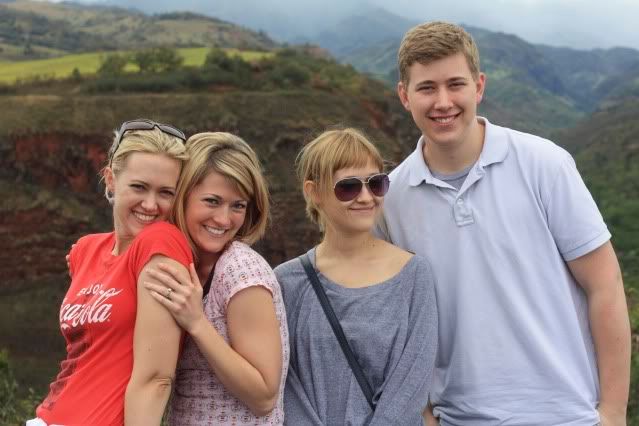 Me & my hunny: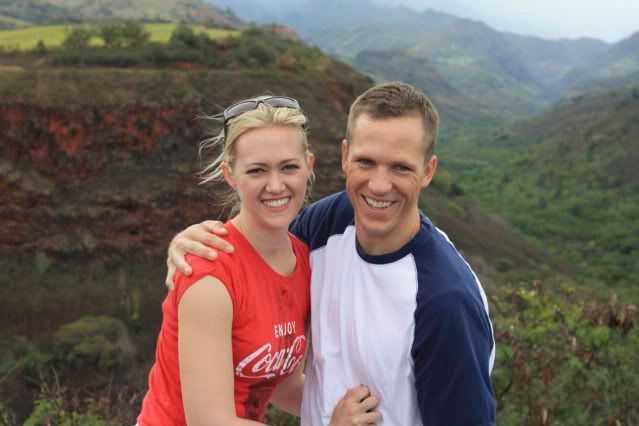 Here's the whole fam damily minus my sister Kelli & our kids of course! L-R: my Mom Karen, Tim & Kristin & their daughter Corinne, Justin, Kenna, me, Matthew & my Dad Mike.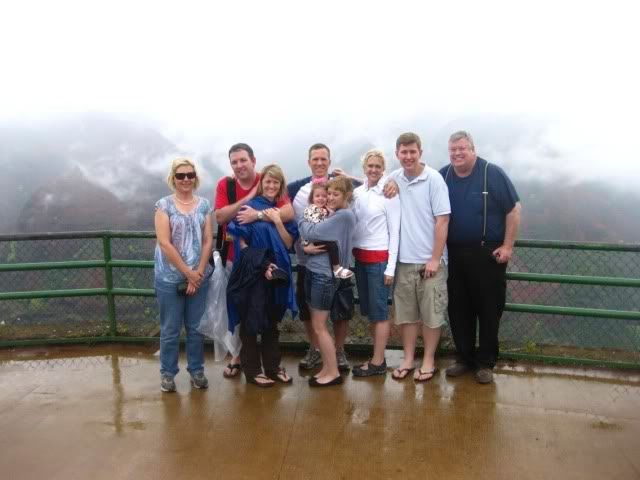 Beautiful Waimea Canyon: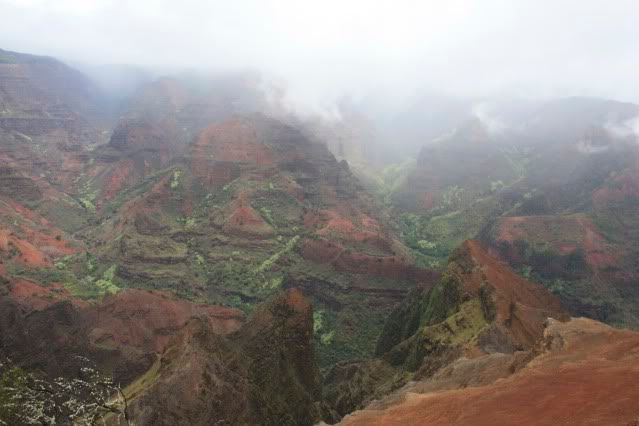 Justin, always the thrill seeker: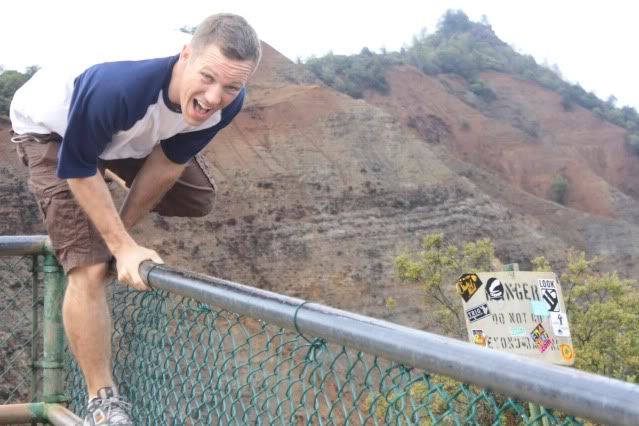 If you've been to Hawaii you know that the weather changes within minutes. It will be sunny one second and then rainy the next and this was the story the entire week we were there. But, I'll get to that later. Up at the top of Waimea lookout it was rainy, windy and pretty cold. Kristin & her hubby Tim brought their little girl Corinne on the trip and I had to grab a shot of her. She's all wrapped up in her Dad's rain jacket. She was a great little traveler yet wasn't very happy at this moment: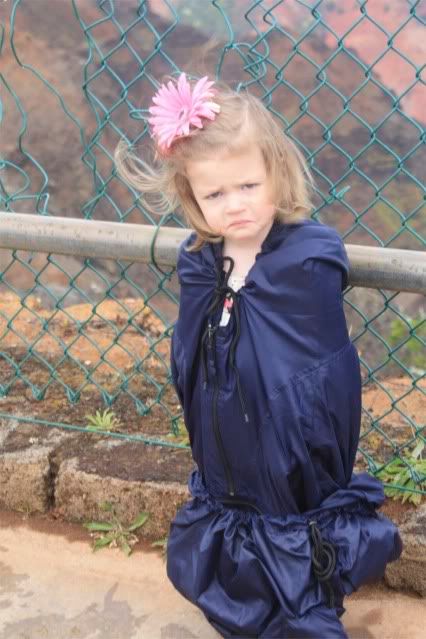 More of Waimea Canyon:
And now's the point in this post where I'd like to play "Where's Justin?" See if you can find him! He went on his own little escapade when I had my back turned. Hey, since I didn't have my children with me, I guess he thought it would be fun for me to play hide & seek with him. Love this man!
Of course we had to do the kissing pose! Did I mention we had no kids??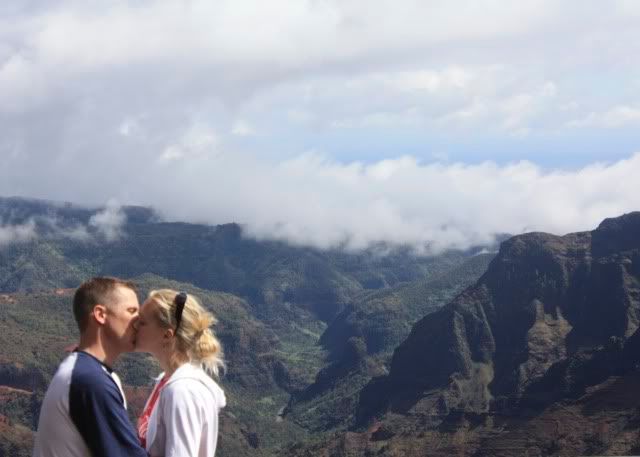 I love this picture of our faces because we were trying to get a little bit of us with the canyon in the background. Guess that didn't work so well because all you see is us, oh and the random guy in the background!
Our next destination was a place called Spouting Horn. It's on the South side of the island. I had to snap a few pics during our car ride over there. I just love the trees in Kauai. Everything is so lush and green. This tree was completely covered with vines! Love it!
We also got to travel through the tunnel of trees. I loved driving through this. Yes, I am standing in the middle of the road to take the picture. What?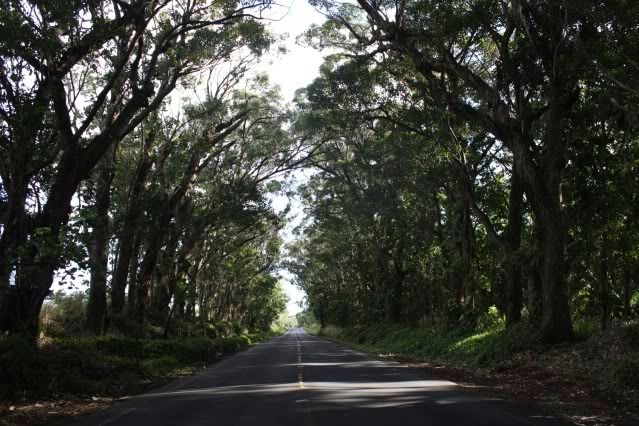 On to Spouting Horn. This is a quick site see place. We came, we saw, we went to the next place. When the tide comes in, it blows this whistle sound and a huge burst of water comes bursting through this tiny hole in the ground. Here's some action shots: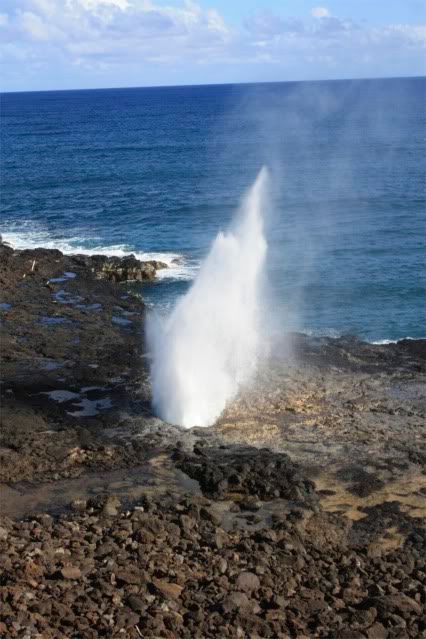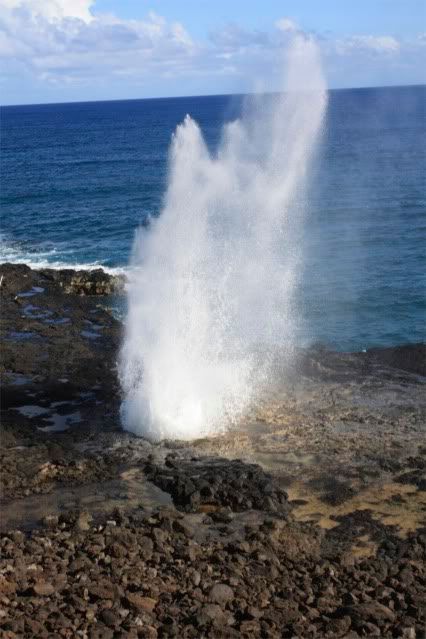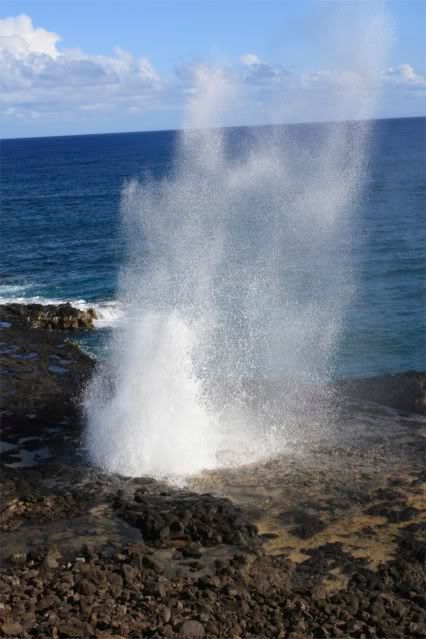 We couldn't go down to the rocks because it was all fenced off. Something about not wanting people to die when the huge burst of water came crashing up and into the sky?
Next came Wailua falls. This is a gorgeous overlook of two huge waterfalls. This drains into Wailua river, which we kayaked down during our trip which I will post about later. Justin went playing with my BIL Tim so I hung out with my little bro and tried to get a few pretty shots. The sun was starting to get low so it wasn't the best light hence not the best pictures. But, we had fun anyway!
As we were laughing we saw a man sitting on the edge of the waterfall. Whoa! So, I bust out the old telephoto lens to see if we can see what he is doing way up there! Can you spot him?
Getting warmer...
Ah ha! There he is! I found out later, this is where Justin & Tim went...trying to find how this guy got there. Boys. Thank goodness they were unsuccessful. Did you see the massive drop off in the earlier pictures?
More to come...