I love LoVe LOVE our Christmas card this year. I wanted to post it so I could let everyone see how cute it turned out. It's so bright and happy. Just my style! My sweet friend
Summer
designed it for us. She's incredibly talented! The pictures were taken by my other sweet friend
Jill
. She is a brilliant photographer! See for yourself!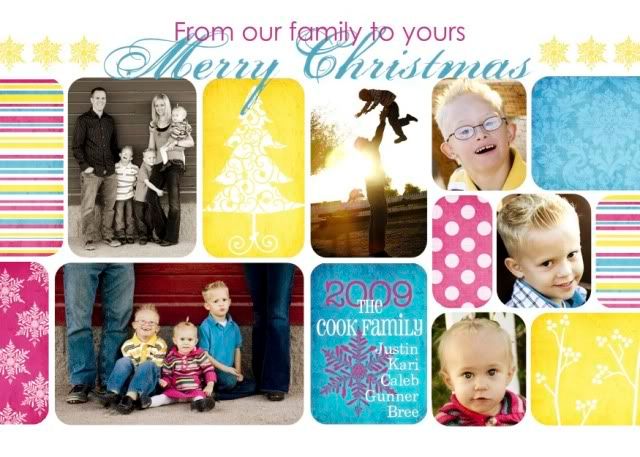 Then, Caleb wrote our letter. This has been our tradition since he was born. If you ask me he is quite the gifted writer! Hope everyone had a great Christmas and has a wonderful New Year!
Merry Christmas to all our Family & Friends! It's our family tradition that I write our Christmas letter & I've heard I do a pretty good job! I am so talented.
I am now 7 years old and very handsome. I am in 1st grade (special ed) and I love school! I love riding the bus everyday and especially like it when the bigger kids (5th & 6th graders) come in and read with me. Even my principal comes in and plays his guitar for me. I still don't talk but each year I get closer. One day I will figure it out and then make up for lost time. I go to lots of therapies but love my music therapy the most. It's my favorite time of the week. I love dancing to music, wrestling with Daddy & playing with my dog. This year I took swim lessons & played soccer on the same team as Gunner. One of my highlights this year was going on my first "date" with my schoolteacher, Ms. Amanda. She is awesome. During the summer she missed me so much, she came and picked me up, took me to a movie & then we had a romantic lunch at McDonalds…she knows how I love my chicken nuggets.
Gunner is 4-1/2. He is a great brother to Bree & I. He likes to tell everyone that I'm his best friend! Gunner & I like to go "hunting" in the backyard and fight the "bad guys" all the time. Gunner really liked soccer this year & did great. His specialty was defense because when the other team had the ball Gunner would go after them like I go after ice cream…like a maniac. He scored lots of goals too. He is really smart and says great prayers thanking God for his family and not to be eaten by sharks. He also loves going to preschool with Mrs. Stacey. He loves all his friends from school & church and he also loves riding his bike outside. He loves swords, knives, anything superheroes & especially our Dad.
Bree is almost 2. She is doing great now. She kicked cancer's butt! (Shhh, don't tell Mom, I said that word!) She finished her treatment in April & in May her yucky tumor was removed. She was declared in remission on May 27th. Our family thanks Heavenly Father every day for this great blessing. Breezy still receives monthly check-ups and MRIs every 3 months to make sure the cancer stays in remission. Bree and I play really well together. We love to wrestle and laugh. One of my favorite things about Bree is her sassy personality. She lets me know when I get too rough but she is also sweet & quick to give me hugs & kisses. Her favorite things are her blankie, her babies (she has more babies than OctoMom) & our doggie. She loves our Mommy a lot because they spent a lot of time together while she was sick.
Dad is still working in Real Estate. He ranks within the top 1% of his industry. He is very grateful to loyal clients & friends who have allowed him to have another great year. He loves sports & almost had a dream come true when the Cardinals went to the Super bowl. My Dad took me to a couple of Suns game this year. After the games my Dad likes to take me on the court to shoot a free throw, but instead I just like to sprint up & down the court yelling as he chases after me! Mommy still loves to blog and enjoys jogging & the classes at the gym. She is training for a ½ marathon in January. She enjoys taking our pictures with her new camera and loves doing my sister's hair, Bree finally has enough hair for a ponytail sprout!
We were able to go on a few family trips this year to celebrate Bree's health. We went to SeaWorld to visit Shamu & play on the beach. Gunner & I loved how the waves would chase us. We also went to the cabin & got to play in the snow up in Flagstaff & go on the Polar Express where I saw my buddy Santa. We had so much fun!
This year we are so grateful to celebrate Jesus' birthday. I love him so much. Even though I can't say it out loud I try to show it by hugging and kissing as many people as I can. He has been with our family in so many ways this past year. We love to celebrate his birth and His life during this special ChristmasSeason. Merry Christmas!!
With Love,
Caleb Cook